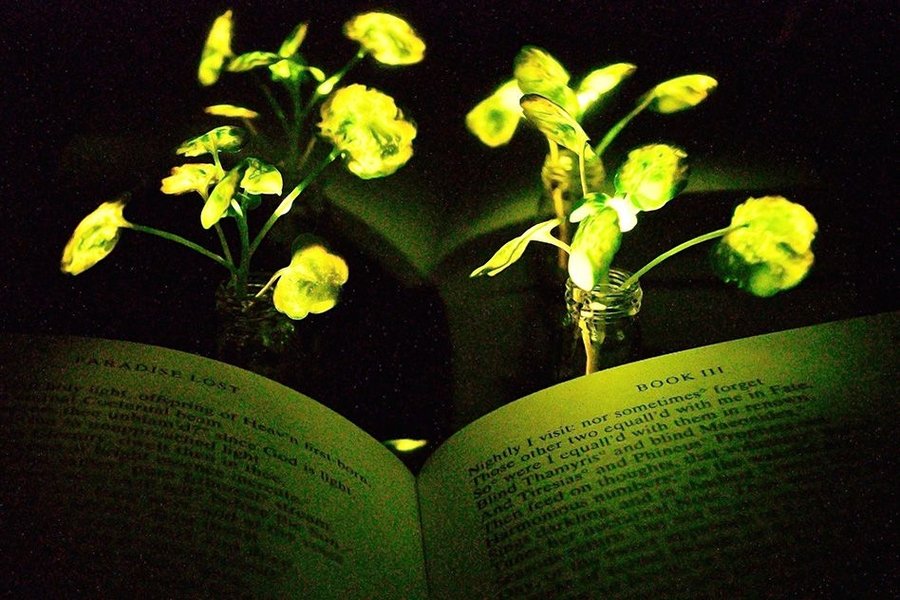 Light Emitting Plants: Nanobionics
What? Is this really true? How could plants and trees emit light like LED? This was way beyond our imagination till now. BUT not any more…
A team of scientists and researchers from the University of California and the Massachusetts Institute of Technology (MIT) have successfully demonstrated that plants can actually emit light. The team has found a way to infuse plants with the luminescence of fireflies. By embedding specialized nanoparticles into the leaves of a watercress plant (Nasturtium officinale), scientists, at MIT, induced the plant to give off a dim light for nearly four hours. Scientists believe that, with further optimization, such plants will one day be bright enough to illuminate a workplace. Lighting, which accounts for 20% of worldwide energy consumption, seemed like a logical next target.
Plants can self-repair, they have their own energy and they are already adapted to the harsh outdoor environment.
The light is ultimately powered by the energy metabolism of the plant itself. This technology could also be used to provide low-intensity indoor lighting in the coming future. It can also be used to transform trees into self-powered street lights.
To create the glowing plants, the MIT team used luciferase, the same enzyme that gives fireflies their glow. Luciferase at on a molecule called luciferin, causing it to emit light.
Another molecule called co-enzyme A helps the process along by removing a reaction byproduct that can inhibit luciferase activity. To get the particle into plants leaves, the researchers first suspended the particles into a solution. Plants were immersed into the solution and then exposed to high pressure, allowing the particles to enter the leaves through tiny pores called stomata.
The researchers' early efforts at the start of the project yielded plants that could glow for about 45 minutes, which they have since improved to 3.5 hours. The light generated by one 10 cm watercress seedling is currently about one-thousands of the amount needed to read by, but the researchers believe that they can boost the light emitted, as well as the duration of light, by further optimization and release rate of components.
The researchers have also demonstrated that they can turn the light off by adding nanoparticles carrying a luciferase inhibitor. This could enable them to eventually create plants that shut off their light emission in response to environmental conditions such as sunlight.
Nano bionic Plants
Nano bionic plants, a new research area that aims to give plants novel features by embedding them with different types of nanoparticles. The goal is to engineer plants to take over many of the functions now performed by electrical devices. The researchers have previously designed plants that can detect explosives and communicate that information to a smartphone, as well as plants that can monitor drought conditions.