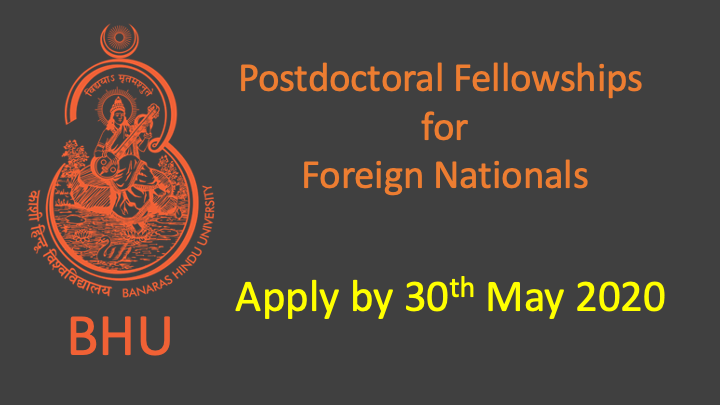 BHU is offering Malaviya Postdoctoral Fellowships in all disciplines of Sciences, Social Sciences, Humanities and Other Professional Disciplines
Postdoctoral Fellowship
The Banaras Hindu University-a premier Indian university invites applications for a number of postdoctoral fellowships for Foreign Nationals, PIO & OCI, as a follow up on its recent elevation as the Institutions of Eminence (IoE) by the Government of India.
Designated as the 'Malaviya Postdoctoral Fellowships', this programme offers up to 100 positions in all disciplines of Sciences, Social Sciences, Humanities and Other Professional Disciplines.
These fellowships are awarded for a duration of 3 years which may be extended for another 2 years on the favourable evaluation by the concerned review committee.
Eligibility
Ph.D. from the top 500 Institutions (THE or Q-S ranking) and a very good academic record throughout or a postdoctoral experience of three years from the top 500 Institutions (THE or Q-S ranking).
Candidates have evidenced and independent research capability and have publications in high impact journals.
Age limit: less than 35 years of age.
Fellowship:
Rupees 1.00 lakh per month (approximately $1500 per month). In addition, the candidate will be entitled to an annual research grant of Rs. 3.00 lakh. Few campus accommodations are available at a nominal rent.
List of documents required:
Proposed research plan (up to 500 words)
Curriculum Vitae with a list of all Publications. Format of Curriculum vitae available at thewebpage of the University.
PDF files of at least two and up to five important publications and a brief description ofcandidate's contribution.
Consent from a faculty member from BHU, who is willing to host may be attached.
Recommendation letter of thesis supervisor or PDF advisor.
The Candidates are requested to create a PDF file with all the above documents and required details which could be sent to the Coordinator, IoE Cell, BHU at: ioecell@bhu.ac.in latest by 30th May 2020. The PDF application also to be copied to the concerned Director/Dean/Head of the Institute/Faculty/Department/Centre and the faculty member willing to host. The candidates are advised to visit the university website, i.e. www.bhu.ac.in for more information.
Download Application Form from here.